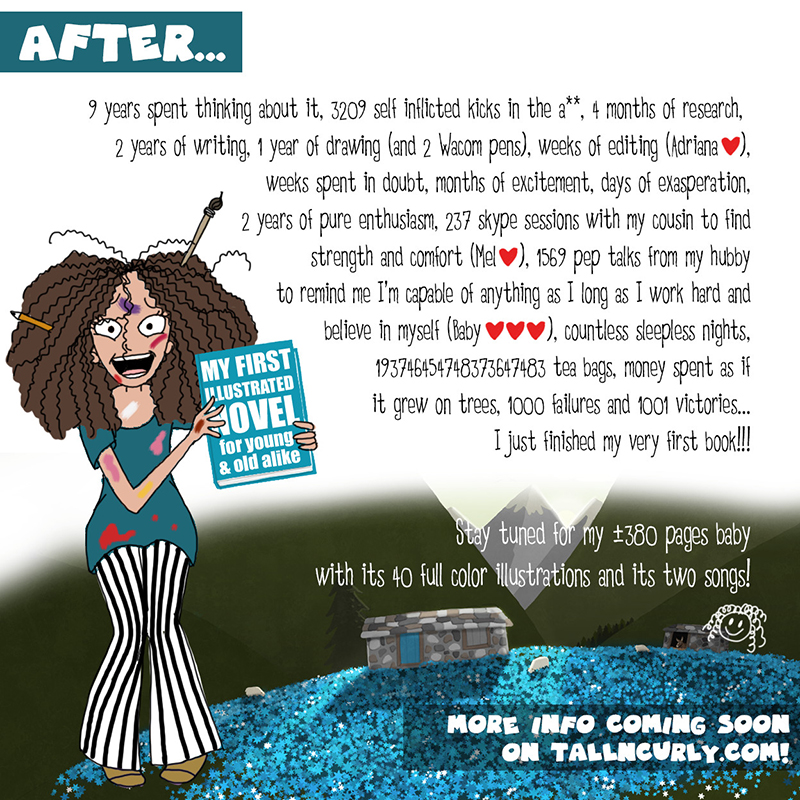 UPDATE: I've got a couple of messages asking me if the book was about curls, height or both. The answer is: none of the above :) But please don't let this stop you. If you like my comics and my spirit in general, the chances are great you will like my story ;)
***
After 9 years spent thinking about it, 3209 self inflicted kicks in the a**, 4 months of research, 2 years of writing, 1 year of drawing (and 2 Wacom pens), weeks of editing (Adriana <3 ), weeks spent in doubt, months of excitement, days of exasperation, 2 years of pure enthusiasm, 237 skype sessions with my cousin to find strength and comfort (Mel <3 ), 1569 pep talks from my hubby to remind me I'm capable of anything as I long as I work hard and believe in myself (Baby <3 <3 <3), countless sleepless nights, 193746454748373647483 tea bags, money spent as if it grew on trees, 1000 failures and 1001 victories… I just finished my very first book!!! :D
Stay tuned for my ±380 pages baby
with its 40 full color illustrations and its two songs!
More info coming soon on tallncurly.com!
*****
The story behind the story of my first illustrated novel

Watch the book trailer here!
What if someone told you that no matter what, no matter when, no matter where, you are not alone? That whatever you do, think, or say, someone is right there beside you, seeing and hearing it all? What if they could send you help at any time of the day? What if they could put obstacles in your way? A long time ago, in India, a young girl discovered this incredible truth and her life changed forever.
Visit ashaandthespiritz.com for more details!