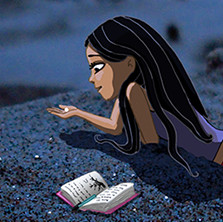 Sometimes you just need to get away from everything, to allow your mind to wander and let yourself go.
You entice your life with Reese's peanut butter cups just like you would with a bird and seeds, and once it's close enough you catch it, put it in a box, lock the box and throw it under a train.
OK that's brutal. Let's say you throw it out the window. OK OK! You just put it in a drawer until you feel like opening the box again. 🙂
As some of you may have noticed, I haven't posted many comics lately. I just wasn't in the mood.
You know the saying: "When life gives you lemons, make lemonade"? Well these past few months, life was kind enough to give me a few lemon trees and I'm still pressing their big yellow fruits, so when I'm not in my lemonade laboratory, I mostly try to take my mind off things.
Here are three images from a little project I created with only this purpose in mind. I combine pictures taken during my travels with illustrations and text, according to my mood.
I don't know if I'll create many more of them or not, I rarely think of the future of anything I create anyway. As long as I'm happy while I'm doing it, that's all that matters! Isn't happiness the ultimate goal for all human beings after all? I find it every time I create something new, so I guess I can say I hit the target each time. 🙂
For those wondering why the girl has straight hair: believe it or not, drawing curly hair is like having curly hair: it requires more time! I thought I would give myself some slack. 😉
<3