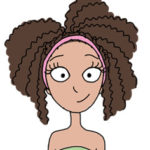 Talking about makeup with a friend the other day, I told her how I love Benefit's They're real mascara. She said: "It's amazing but I can't wear it, it's impossible to remove and I'm not spending money on their mascara remover." Mascara remover…?
I didn't get why that mascara wouldn't come off. Never got any kind of issues with it.
I just typed on the internet to see what people said about that. Indeed, I found many blog posts and comments from girls complaining about the mascara being very hard to wash off. I also saw the They're real remover, which is almost as expensive as the mascara itself.
So I simply thought I would share how I remove my makeup.
That's how I've been removing it for years. It's the cheapest, healthiest, most natural and easiest way to remove makeup I know of, and it does remove Benefit's They're real mascara too, as easy as it would remove any other one.