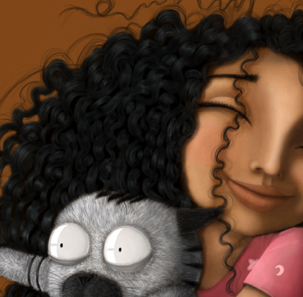 Hello Tallies and Curlies !
Before starting with my long curly hair story, I just wanted to say that I've received so many messages from so many shorties I'm amazed ! AND I want to apologize for taking so much time to answer to each message I just didn't expect so many stories ! 😀
Meanwhile I would like to say to the shorties who took the time to send me their stories : THANKS FOR THE GOOD LAUGHS !!! Jesus !! XDDD Now 🙂
Today, to introduce the drawing I'm posting, I wanted to express my feelings about… hair. What a surprise.
Today, I would like to talk to the curly little girls' mothers out there. Especially the straight haired mothers who, for some mysterious genetic reason or less mysterious mixed love story, ended up with a little broccoli like me.
Mothers who just can't figure out how to take care of the jungle that's growing on their daughters' heads, mothers who sometimes feel like Indiana Jones trying to make their way through that jungle armed with a terrifying big brush, mothers who, from time to time, are thinking of taking out their SWORD to BRING THE JUNGLE DOWN. Well read my words mothers : STOP BEFORE YOU COMMIT A CRIME !
My mother VS my hair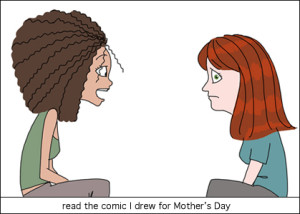 As I explained it before in my about section, my mother is white. She's partly from irish descent and didn't bother to give me nor her straight hair nor her green eyes (what would have I done with green eyes anyway, tss).
I can imagine she already knew, by making a baby with my dear black father, that her child would maybe NOT have long silky smooth hair like she did. Yet, I don't know why really, I do have the impression that she didn't expect… THAT.
When I was born, I was as straight as chinese. I can picture her, kissing my little soft and almost bald head, thinking "Oooh my little sweetie, all the lovely hairdos and dresses you're gonna get one day." Then ? I don't know. Maybe God thought he would make some kind of cosmic joke to my mom and decided my hair would only grow right on the middle of my head, like a curly iroquois, see ? So until I was 3, I must say I looked like a very trendy hardrocker's baby : no hair on the sides but 3 inches of soft curls standing straight right in the middle.
My mom wasn't that of a rocker and I guess was starting to worry about my poor little shy side's hair, so one day she woke up with a brilliant idea : to cut it to the root, ya knooow… "to give it a little strength !". Yeah… She thought it needed some. HA.
Well I bet she was happy when it all started to grow and to curl more and more and more and more until she had her very own little Donna Summer at home. And not mentioning that I've NEVER, EVER met ANYONE who has as much volume on the sides of the head as I do.
At the beginning, she wanted to understand : "What in the WORLD happened ? Is that even POSSIBLE ?? WHAT AM I SUPPOSED TO DO ??? Would YOU have some advice ????? YOU have curly hair!! " she asked my father. "Mssss" he said.
And so she tried… no not to make it look good, no not to make it healthy, no… she simply tried to make it stay STILL. One braid, two braids, one braid, two braids, one braid… oh and also two braids. SO MANY HAIRSTYLES wooo. I bet she had twice as much fun as she thought she would have on that famous day I was born.
Me ? I didn't care of always having the two same hairdos. I LOVED my long hair. It was part of me. I was famous at school because of my long hair. I didn't feel proud about many things by then, but Lord was I proud of my hair.
So long long hair!
But one day, my mom well.. she got fed up.
Fed up with the hours it took to wash it, comb it, dry it, style it. Mostly she got fed up with me screaming during the whole process. So she took me to the only hair salon she knew : a regular hair salon that had never seen hair like mine before. And the dude simply cut it. Please refer to my about section if you ever want to see the before/after pictures of that sad sad day.
Well what I have to say, mothers, is that since then, my hair has always been a problem in my life. Not mentioning that I instantly started being bullied at school and that the jokes about my now  short curly hair became the glasses through which I was looking at myself, my mother decided to keep it short until I was old enough to make my own decisions (around 26 years old) (haha) so when I was a teenager and it was time to just do what I wanted to do with my hair 1) it was short and ugly 2) I had simply NO CLUE about how to take care of it.
SO, after a few years simply looking like sh*t, I discovered STRAIGHTENING, and then RELAXING, and my hair NEVER GREW and I was SAD and I felt BAD about myself. Until today, I'm still literally obsessed with long hair. The thing is, it took me so much time to stop torturing my hair, the longest I've ever got still isn't long enough for me, and I might turn 40,50,60 before I get the length I want and so then I can finally look like an old witch.
All of this to say:
Straight haired mothers : today you have no excuses. So do something for your daughter's present AND future : learn about their hair!
Go fetch information about curly/kinky/coily hair anywhere you can. You can go to a black hair salon and ask questions, there are even some books about it, and there is INTERNET. YOUTUBE will show you the way. And well… yes. It does take more time than if your daughter had straight hair, but there's nothing spiritual to say about it but this : you have no choice 😉
So ! No comic today but a drawing I did in Photoshop that took me forEVER because of the mane 🙂 I named it "Good morning Kitty !"  and it's a tribute to the long-curly-healthy-haired little girl I could have been… and still am deep in my heart 😉 (click on image to see full size)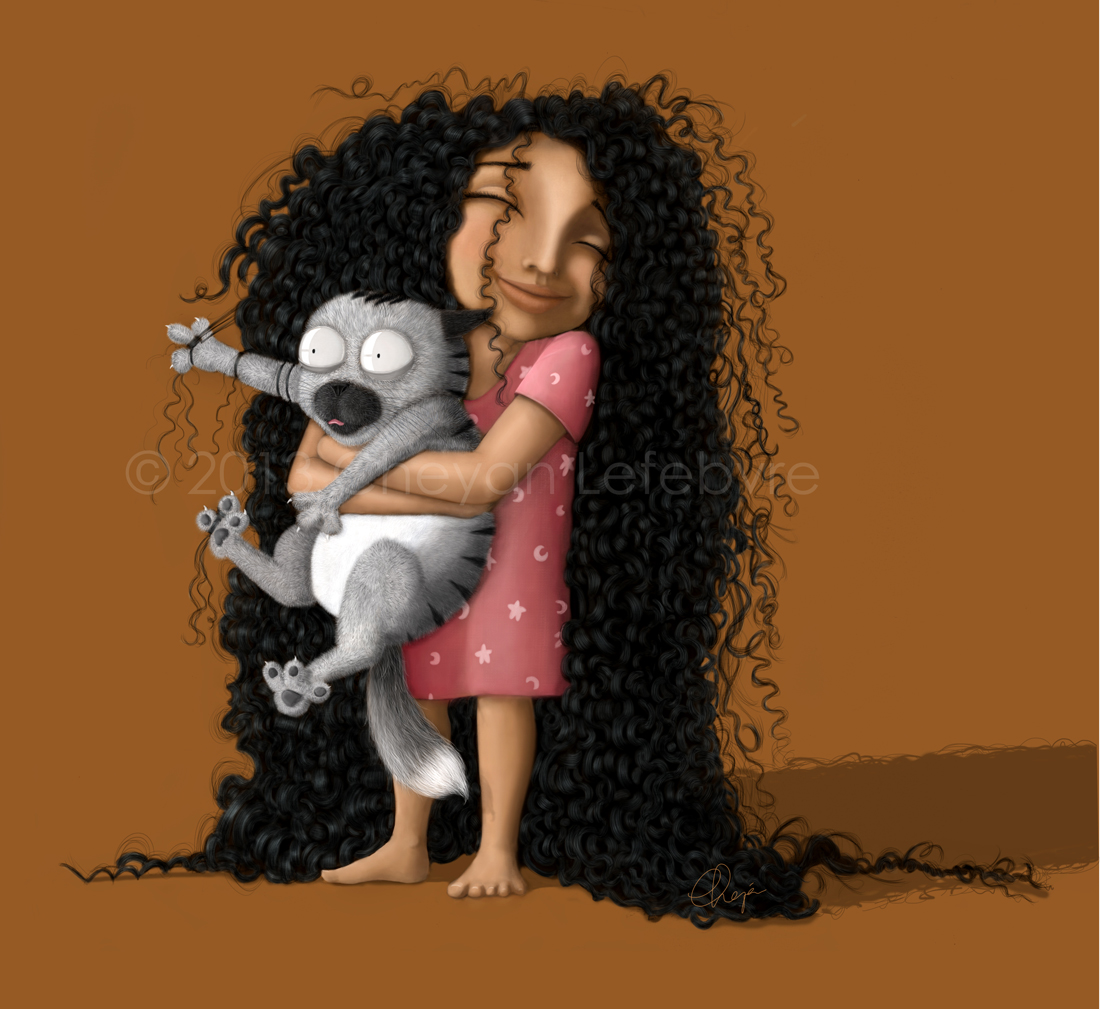 You can buy the "Good morning Kitty" drawing on different items (poster, notebook, postcard, lunch box, clock…) in my Zazzle store 😉

Also, Nik from Long Hair Dont Care LLC has two daughters. Believe me, you WANT to see their hair and you want to know how she did it. Well she explains all of it on her Youtube Channel (and tons of other things any mother on Earth will love to hear about!)