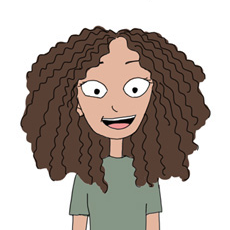 Hello Tallies and Curlies ! 🙂
Just a lil post to say that there will be watermarks on my comics from now on… And this pisses me off as watermarks are ugly, that's why I had decided to only put a signature at the bottom of my comics. But as I've just received the zillionth – yes I love to exagerate – message telling me it was complicated to find me as people cut off my signature before spreading my comics on the web, I guess I have no choice… *sigh*
I would just like to take a moment to say that I think it sucks to do such a thing. The signature is already there, why would someone take the time to cut it off before sharing anything ?
And this happens all the time and to every creator on the web I know, and that's why watermarks exist but… I don't know. Somewhere in my naive and smiling little brain I thought that a signature would be enough. I have respect for others' creations so I thought my creations would be respected too.
Although I make these for fun, I put a lot of myself in it, as anyone who's creating anything. It's even ME I'm drawing there ! So I think that if some other tall and/or curly girl wishes to contact me to tell me something as simple as "Thank you for the good laugh",  it's legitimate to hope she can easily find me to do so.
Anyway, that was my rant of the week ! Back to smiling now and thanks to the ones who do respect my little comics 😉