"People at school make fun of me all the time"
"They say I'm ugly"
"They say I'm too tall"
"That I'll never find a boyfriend"
"I wish I was different"
"Other girls are prettier"
"Guys don't like tall girls"
Since I started tallncurly.com back in 2012, I got many emails sent by young girls who are – to say the least – not happy. These past two weeks alone I got four messages from four girls who all basically asked me the same thing: "How am I going to survive being different."
I always take time to answer these messages because I can relate so easily, so I did, but then I thought about all the girls who stop by my blog – maybe after they've typed "I'm too tall I'll never find a boyfriend" or "I hate my hair" or "People say I'm ugly" in Google (Yes, I unfortunately often see these kind of terms in my stats) – but who don't send me a message and who maybe don't have anyone to talk to. God knows that I know how teenage can be lonely.
So I thought I would create a series of comics to illustrate what I generally answer to these girls, just because it's the kind of things I wish someone would have told me when I was their age. :)
So here's the first two ones: "High School" and "Words and Cactuses" ;)
<3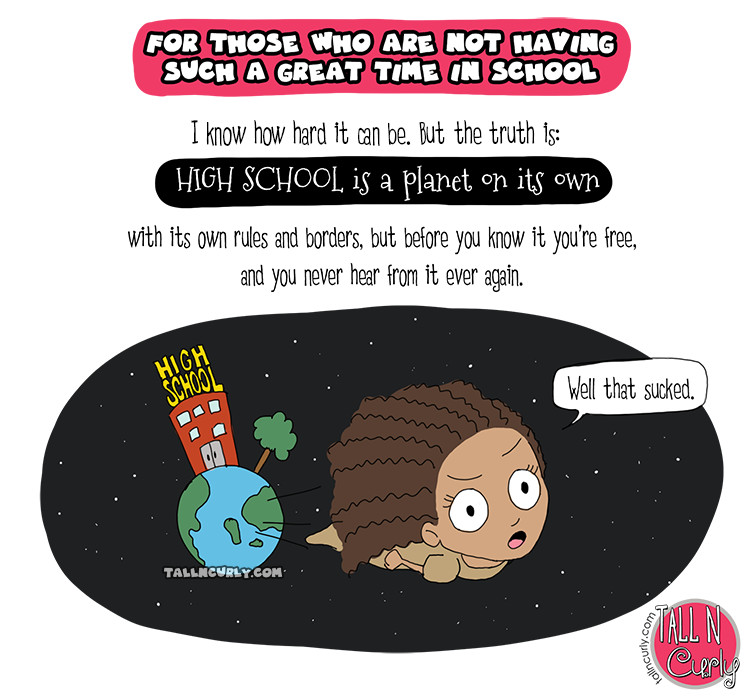 *****
The story behind the story of my first illustrated novel

Watch the book trailer here!
What if someone told you that no matter what, no matter when, no matter where, you are not alone? That whatever you do, think, or say, someone is right there beside you, seeing and hearing it all? What if they could send you help at any time of the day? What if they could put obstacles in your way? A long time ago, in India, a young girl discovered this incredible truth and her life changed forever.
Visit ashaandthespiritz.com for more details!