As I'm away from home for a little while, I don't have access to my drawing tablet. Therefore, I can't post new stuff right now on my blog, so I've decided to post doodles.
I draw something, scan it, put colors on it and post it, everything in less than 5 minutes.
So here's my first one :
I often wonder what would happen, when I'm asked or told how tall I am by somebody, if I just answered back by asking a question about a physical aspect of that person too. Would it make that person realize how annoying/stupid/mean/useless it is to come up to me and make a comment about my unusual height ? Dunno.
Worth trying it though.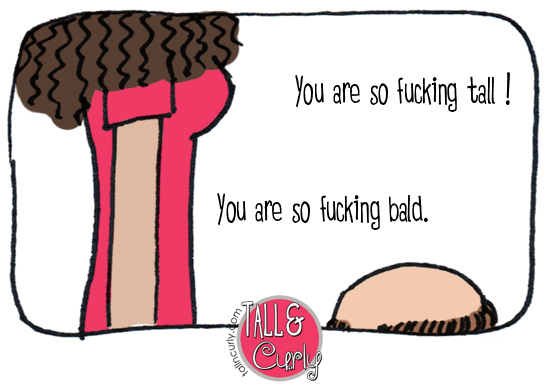 *****
The story behind the story of my first illustrated novel

Watch the book trailer here!
What if someone told you that no matter what, no matter when, no matter where, you are not alone? That whatever you do, think, or say, someone is right there beside you, seeing and hearing it all? What if they could send you help at any time of the day? What if they could put obstacles in your way? A long time ago, in India, a young girl discovered this incredible truth and her life changed forever.
Visit ashaandthespiritz.com for more details!